There is graphic design, where Mark Trinham's formal education lies, and then there is liveable design, a practice Mark defines as "wanting to put a creative bent onto functional design around the home and garden."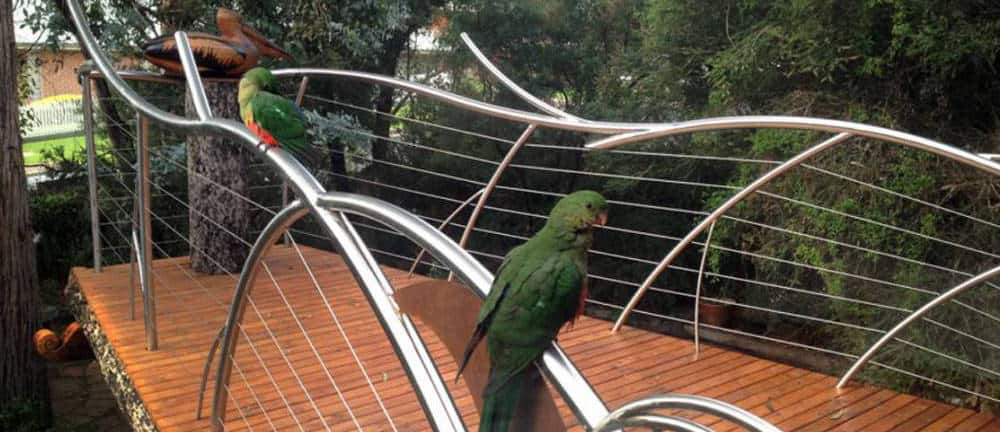 Liveable Design bridges art, craft, architecture, even farming and gardening—in general, Mark's work resists being put in neat boxes. Perhaps that is why he tends to use "boxy" to mean the antithesis of artistic, as in "if you're going to build something, rather than building it square and boxy there's no reason why you can't build it in a creative fashion."
Living design projects have included creating a deck and balustrading, stone garden walls, and outdoor seating and meeting areas. Much of this work actually involved his own home—he built the back deck using recycled wood pylons and planking, with a stainless steel balustrade that reflects the surrounding gum trees.
He carved hornbill heads into the pylons in the front, a detail inspired by the longhouses he saw in Borneo, where the hornbill carvings are intended to spiritually protect the houses. He describes the deck's overall design as vinelike and calls it a "brooch for the house."
Mark has not had a chance to get involved with the initial construction of a house, but he'd love to do it if the opportunity came up.
Ghazeepore
Another arena for living design has been Ghazeepore, a thousand-acre farm where owner, Andy Smith, runs sheep and cattle and grows some crops. He and Mark share a love of wildlife and farm life and have become good friends. At first, Mark just pitched in as a farm-hand, working with the sheep, fixing fencing, doing a bit of forestry and a lot of gardening. That work led to building stone garden walls and creek crossings, and then from there to sculptured letter boxes and big sculptured entrance gates. He describes this work as "creating beautiful and practical spaces within the property," words that make the whole thing sound like yet another sculpture.
Mark's connections to farm work in general and to that farm in particular run deep. When Ghazeepore opened as part of the National Open Garden Scheme, Mark had a small exhibition there, carving a timber sculpture, presenting slides, and talking to members of the public. When Mark decided to display and sell his paintings from the SCIPN Wildlife Card project, he used wood recycled from Ghazeepore fence posts for the frames.
There is no clear line for Mark between practical work, such as construction or farming, and art—or between either of these and education or environmental activism. In all cases, he simply interacts creatively with spaces and places to make sure his projects are as well-build, as environmentally sustainable, and as beautiful as possible.